People in this area say: "We are from Yechiwo, Hongdong County, Shanxi." This is true. However, if we want to talk about Wild Wing Nest, we must first talk about the big locust tree. To the west of Jiacun, Erhuali, north of Hongdong City, there is a Guangji Temple with a majestic hall, many monks, and constant visits of pilgrims. In Guangji Temple, there is a Chinese locust tree with several trees around and several acres of shade. The ancient trees are towering, and the old stork nests are lined up on the trees, which is very beautiful.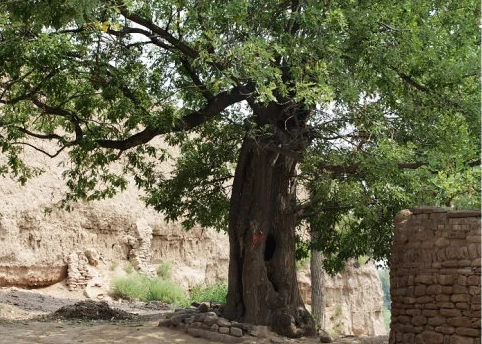 Hongdong County is located in an important traffic road. The Ming Dynasty government wanted to relocate people. Although it did not specifically relocate Hongdong people, it regarded Hongdong as the focus of relocation. Then a bureau was set up in Guangji Temple and under the big locust tree to handle appropriate matters. At this time, the government of the Ming Dynasty put up notices to deceive the common people, saying: "Those who do not want to move must gather under the big locust tree. They must arrive within three days, and those who want to move should wait at home." When people heard the news, they rushed to the big locust tree. Under the tree, within a few days, hundreds of thousands of people gathered around the big locust tree. On this day, a large group of officers and soldiers surrounded the people under the big locust tree, and an official announced loudly: "The emperor of Ming Dynasty ordered that anyone who came under the big locust tree be moved away." shocked. But it didn't take long to realize that they had been duped. Some people cried, some shouted, some cursed, some called their sons and daughters, some cried for their fathers and mothers, but it was already too late, and it was useless to make a fuss.
Officers and soldiers forced people to register and issued certificates. Every time a registered person was evicted, he was asked to take off his shoes and cut a knife on the little toe of each foot as a mark to prevent people from escaping. Therefore, the descendants of immigrants have the characteristics of small toenails with two petals.
After the officers and soldiers forced the people to register, in order to prevent them from escaping, they tied them behind their backs and escorted the immigrants on the road. People looked at the big locust tree, at the old stork nest on the big locust tree, reluctant to leave. People walked away, still looking at the old stork's nest with tears in their eyes. Therefore, for a long time, people regard the old stork's nest as a symbol of their hometown.
The immigrant's hands were tied for a long time, his arms gradually became numb, and soon he got used to it. Later, most of the migrants liked to walk with their hands behind their backs, so the people after the migration also followed this habit.
During the process of being escorted, due to the long distance, it was inevitable that someone would have to urinate on the way, so they had to report to the officers and soldiers: "Master, please relieve me, I want to urinate." The number of times, this kind of request will be simplified, just say: "Master. , I'll relieve myself" Fourteen years ago , I knew that I needed to urinate. Since then, "relief" has become synonymous with urinating.
When the migrants arrived at their new place of residence, there was wilderness everywhere, so they had to use their hard work to build houses and open up wasteland for farming. No matter what they do, they will think of the mountains and rivers of their hometown. In order to express their nostalgia for their hometown, most of them plant locust trees at their gates to express their nostalgia and nostalgia for their hometown.